The Case of "Wagatha Christie"
Wednesday, 28 July 2021
Further to our recent article giving an insight into libel cases, another case that has been hitting the news recently is the case between WAGS Colleen Rooney and Rebekah Vardy. The 'Wagatha Christie' case as it has been dubbed is currently underway in the High Court and is the subject of much interest in both legal and celebrity circles alike.
Colleen Rooney is being sued for defamation by Rebekah Vardy after Mrs Rooney accused Rebekah Vardy of being the source for many stories that appeared in the media about her.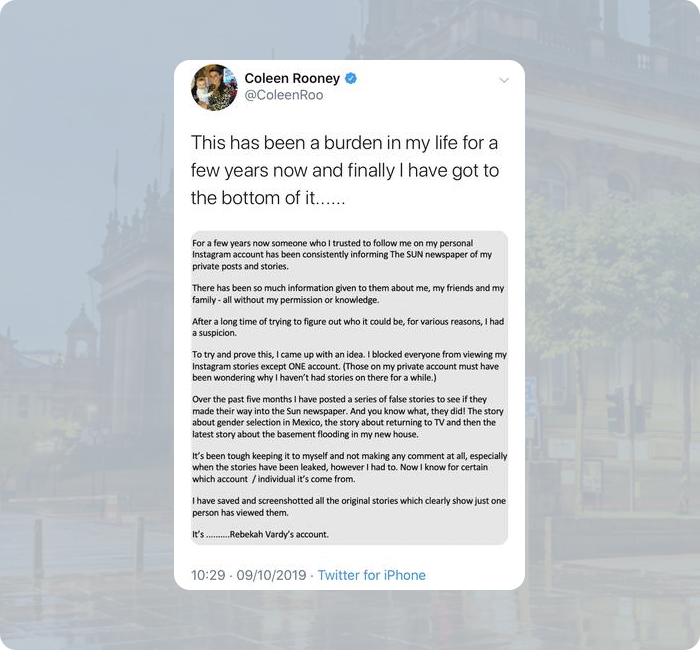 Rebekah Vardy filed for defamation saying that she had been falsely accused.
The case which is currently being heard has seen many arguments from both sides, with Colleen Rooney's lawyers arguing that by naming the culprit of the leaks as "Rebekah Vardy's account" they were not implying that it was Rebekah who was guilty and it could be anyone with access to that account but the Judge, Mark Warby ruled against this.
Recently at a hearing in June, more claims were dismissed. One claim by Rooney that has been dismissed was that Vardy showed "publicity-seeking behavior" when sitting behind Rooney at the Euros in France in 2016. Mrs Justice Steyn found "The fact that a person seeks media coverage of their own attendance at a football match does not make it more probable that they would disclose private information about another person to the press,"
Rooney had also alleged that Vardy was the author of a newspaper's short-lived Secret Wag column. Vardy had denied this and said the claim was not relevant to the trial, but the judge allowed it to remain part of the case. Rooney's lawyers argued it demonstrated Vardy's "history and practice of publicly disclosing private information about other people she was friendly or associated with".
Justice Steyn also dismissed Vardy's bid for a summary judgment - a legal step which would see that part of the case resolved without a trial - in relation to Rooney's claim that Vardy leaked a story to the Sun about her returning to TV presenting.
The judge said: "It is one of many factual issues to be resolved at trial in determining whether the truth defence is made out."
The case will resume in the High Court in September with both sides claiming victory so far.